The Dallas Fed Texas Manufacturing Outlook Survey for March just crashed to the worst levels since the survey began. The production index cratered from 16.4 to negative 35. New orders dropped to negative 41.3, and the growth rate of new orders index fell to negative 44.9. The employment index fell to negative 23.0, and the hours worked index fell to negative 22.4
"The general business activity index plunged from 1.2 to -70.0, and the company outlook index fell from 3.6 to -65.6. Both March readings are the lowest since the survey began in June 2004."
Texas is now experiencing the worst of both worlds with the Covid-19 shutdown and an all-out oil price war. This chart for Dallas-Fort Worth employment through February 2020 is going to look a lot different once the March numbers from the Texas Employment Commission post.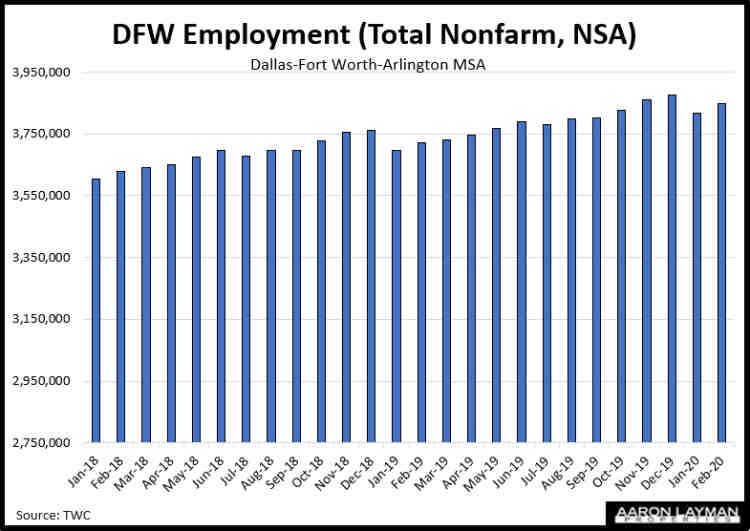 Earlier this morning we heard from the National Association of Realtors that the pending home sales index for February was up 2.4 percent for the month, and up 9.4% from the previous year. That lagging data is not going to be much comfort as the the economic deep freeze continues to play out. I've been watching the numbers for active option contract listings in the NTREIS system during the past week, and the shrinkage does not bode well for the immediate future.
Individuals and small businesses are going to be severely strapped for cash, and federal aid won't come nearly as fast as the bailouts we've seen for Wall Street. In a rather odd bit of irony banks and mortgage lenders are calling for the Federal Reserve to stop buying mortgage bonds to save them from margin calls. It seems everywhere you look things are really chaotic. The number of companies which have laid off workers continues to grow. Billionaire buyer Tilman Fertitta furloughed 40,000 staff, and Macy's is apparently going to furlough a majority of its 130,000 workers.
The odds of a short-lived glancing blow for the Texas housing market are not looking good at the moment. Hopefully we will bend the Covid-19 curve soon. The fallout from the oil price war might prove to be even more challenging to solve. With so many things up in the air, it's hard to tell how this will play out. The Federal Reserve's balance sheet has already spiraled well north of $5 trillion, and there's no telling how much additional stimulus will be needed to right the ship.
Be safe out there.