Denton County employment growth is still humming along. The Dallas-Fort Worth area continues to add jobs. Even with the job growth, home price gains in the DFW area continue to slow. This is confirmed in the recent numbers from Case-Shiller. Along with many professional PhD economists, the Case-Shiller committee seems to be puzzled that the housing market isn't firing on all cylinders given the recent plunge in mortgage interest rates.
"Given the broader economic picture, housing should be doing better."
Even Freddie Mac's deputy chief economist seems to be perplexed that the housing market isn't being stimulated by a huge cohort of millennials who should be snatching up homes in this vibrant market.
The National Association of Realtors just reported a 16th consecutive month of declining annual annual activity in the pending home sales index. Contract signings fell 2 percent from the same time a year ago in April, and this was in line with the tepid one percent increase we saw for contract activity in Denton County.
With so much job growth in the DFW area, why are some buyers still sitting on the fence even as mortgage interest rates are dipping back below four percent? Could it be that these professional economists are looking at a different set of data, or are they choosing to look at data which confirms an endless growth narrative? I have to admit that some of the comments I have seen coming from professional pundits and economists are rather comical, if not completely frightening. It's as if most of these professional economists are working on commission, because some of the sales pitches are completely hilarious.
The only way you could be surprised by recent developments in the housing market is to completely ignore the policies of the last several decades which brought us to this juncture, particularly the Enron style government of the past 10 plus years which bulldozed millions of Americans to save a corrupt, parasitic financial system. The last two years have only been a continuation of the trend with a slightly more clumsy in-your-face trickle-down policy shift. Discussions of the massive bailouts for corporate America and Wall Street crooks are still taboo in the daily main stream media narrative.
The U.S. housing market is still searching for a "new normal" even though normal has been thrown out the window to prop up the S&P 500 index. Mortgage interest rates are headed lower again because there was no alternative to avoid a systematic implosion of the status-quo narrative. Many Americans are living paycheck to paycheck, and the debt in the system keeps piling up as parasitic elites look for more ways to profit from renter nation and the neo-feudal gig economy that seems to be all the rage.
A few days ago I had a good chuckle listening to billionaire restaurant magnate and Houston Rockets owner, Tilman Fertitta, talking to CNBC mouthpieces about the fabulous economy and how there were so many new places workers could go to make make more money. The only part he left out was the giant disclaimer that these workers now need two or three of these gig economy jobs instead of one, assuming they want to make a decent living.
Dallas-Fort Worth is still enjoying decent employment growth…
Same is true in Denton County…
Jobs are also growing in the City of Denton…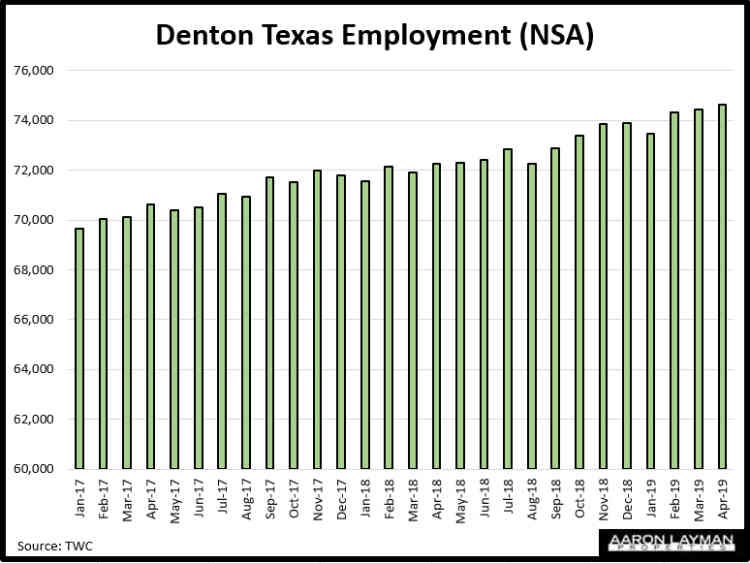 Jobs are growing but American workers are not making any headway. Actually they are getting left behind…
And you still wonder why U.S. home sales are not breaking new records???